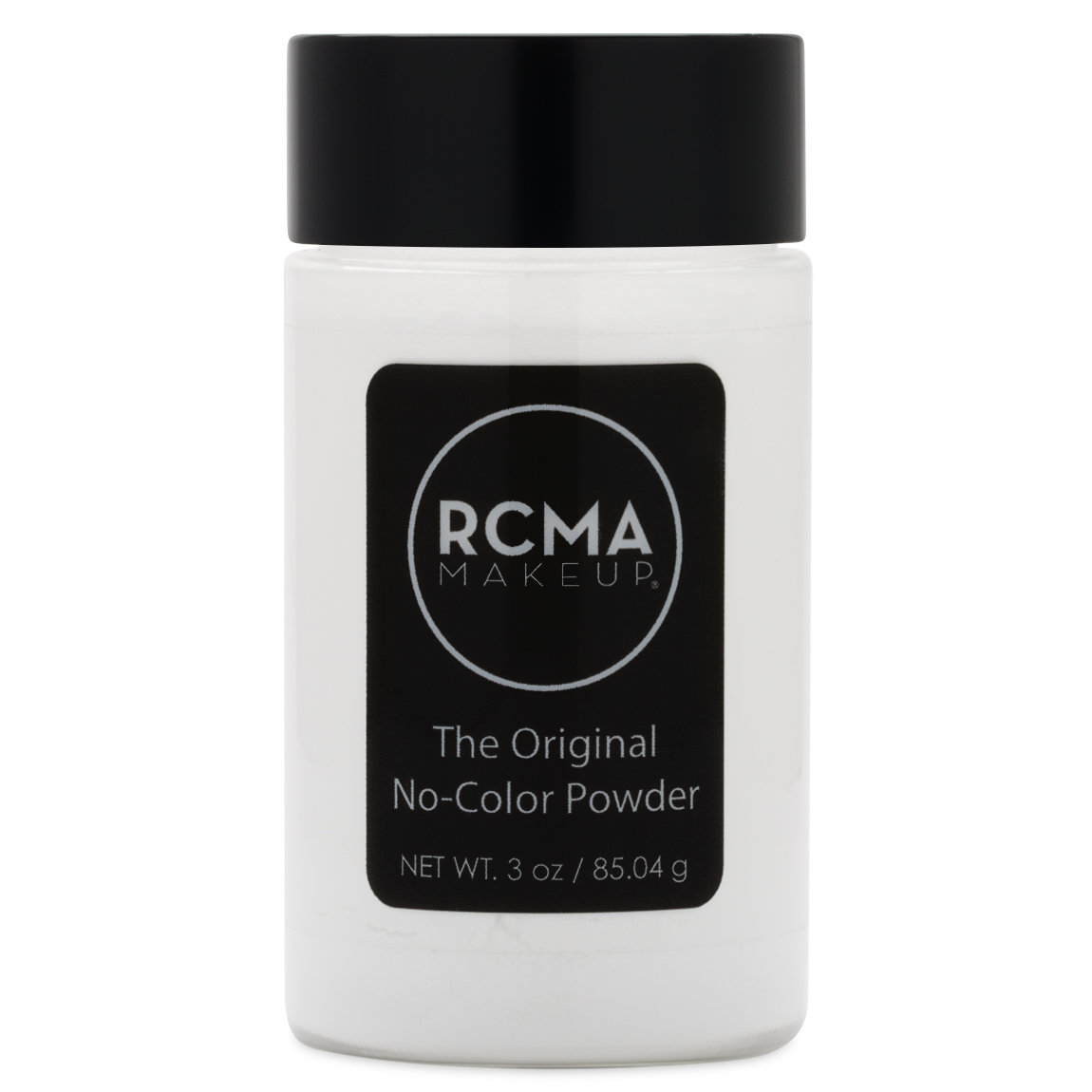 Get the Set

Product Description

About No Color Powder

Set your makeup like the pros with this cult-classic invisible setting powder. Used on set by Hollywood makeup artists for years, RCMA No Color Powder sweeps seamlessly over skin, locking in a soft-focus finish that stays comfortably matte all day.

Why It's Special

Keep your makeup fresh and flawless for hours with no caking, creasing, ashiness, or breakthrough shine
Pigment-free formula blends smoothly over all skin tones and makeup products without altering color or texture
Blurs fine lines, pores, and imperfections with a silky, ultra-fine blend of talc and silica

How to Use

Swirl your favorite powder brush into the loose powder. Tap brush to release extra powder and dust over skin for a soft-focus matte finish. Can be used to bake concealer, mattify lip products, and more.

Other Details

Ingredients

Shipping & Returns

Free Shipping

Beautylish offers free shipping to the U.S. on all orders $35 and up. For all other orders, we offer $5 flat rate shipping.

Fast Delivery

We ship using FedEx Express (2 business days from order shipment date) and FedEx Ground (3-5 business days from order shipment date).

Satisfaction Guaranteed

If you are less than completely satisfied with your purchase, you may return your order within 60 days (from the delivery date) for a full refund. We'll cover the cost of return shipping within the U.S..

World-Class Customer Care

Beautylish's team of makeup artists and beauty experts are here to help. If you need assistance in anything from color matching to your perfect skin care regimen, we're here to help.

Phone: 1-877-992-5474

Email: service@beautylish.com

Reviews

Best Setting Powder

This is the BEST setting powder I have ever used! I have been using the 10 oz no color setting powder everyday for over 2 years now and still have more than half the product left! It's a great powder that lasts all day long, giving any foundation a flawless finish. You can you the powder as a setting powder or for touch ups throughout the day. I have oily skin and this works wonders for touch ups (although i do suggest purchasing a small sifter or container to carry it with you). I also find that this powder doesn't oxidize or look powdery. Sometimes I can get carried away with overpowdering, but I never look cakey when it comes to this powder. The actual color of the powder is white, though it never appears white on the face. One of my favorite ways to apply this is over a light, dewy foundation such as Mac's Face & Body. Dewy foundations never last long on me due to my oily skin, however, when I apply the rcma powder over it, the foundation transforms into a light, demi-matte finish (which i love!), and am able to wear the foundation for the entire day without any signs of fading or slipping. I also love setting cream blushes with this powder! My favorite is the Stila Convertible Color Lip and Cheek Stain in Peony, the powder gives it again, that demi-matte finish which gives it a natural appearance. Overall, this is one of my must-have products! And for $10, theres really no harm in trying it. Most likely, you will LOVE it like i do! :)

Keeps make-up matte all day, doesn't change cream or liquid colour

This product is so much better than I expected!! It truly locks your cream or liquid foundation in place all day. Even my T-zone was matte at the end of the day, normally unheard of!! I apply it with a beauty blender in a dabbing motion. It also doesn't change the colour of make-up underneath. I love to contour with cream products (RCMA, CoverFX, BHcosmetics, etc) and it works like a dream with all if them. Not to mention you get a silky soft finish on the skin. Love it! PS the shipping was amazingly fast!

Jacqueline H.

May 24, 2014

"RCMA IS The Professional's Makeup"

TRCMA, or The Research Council of Makeup Artists was founded by the legendary Makeup Artist Vincent JR Kehoe in 1962. He developed RCMA to further the research and continue the development of 'specialized professional make-up products' for film, television and stage/theater industries. RCMA powders are a staple in the industry and every Makeup Artist I know carries this product in their kit.

Have you ever been in the situation wherein your foundation color looks spot on; however once you apply "translucent" powder to set it, the color shifts? Why does that happen? Because most translucent powders contain flesh colored pigment.

RCMA's NoColor Powder creates a matte finish with finely milled talc and it will keep the foundation color stabilized even when sebum production breaks the foundation. RCMA was one of the first, and is still one of the most popular 'No Color' setting powders in the industry.

When I first started using this powder, I felt the same way you did Majority I., in terms of how this product is packaged; however, a solid product doesn't need for the lack of a better word, 'fancy' packaging to produce fantastic results time and time again. There is a reason this powder is one of the industry's most popular setting powders....It works. I could not imagine not having this powder, that's why I purchase it in the 10 oz. size. Like Alicia P., said.... this powder is finely milled, won't bounce back and it gives the skin a subdued beautifully matted finish.

Absolutely wonderful

This product works great! The powder is very luxurious on the skin. The fact that talc is left out of the product allows it to work effortlessly. There is no color and no cake. The RCMA powder works great on the deepest skin tones so no worries to the MUA. Please ignore the 1 star review since it is solely based upon packaging. You can alway place the powder in a different container if the "look" is that important.

Best powder I have ever used.

If you were to look at my dressing table (which, incidentally happens to be a rather large desk) you would find several of the top brand setting powders there. Just think highest end, pick the top five at least, approx $30-$50 apiece, and they're on my desk. And in pride of place, the one Ive been reaching for every day since I got it, is RCMA. It is the most finely milled powder I've used ever. I don't want to use names but you all know what the top brands are, and this little "white ball of fire" is definitely the Swan of the lot. Just beautiful, a joy and so soft to use, no caking, I do not have to use touch ups, it stays put over the foundation underneath. I recently had the experience where I was in my "face" for 36 hours straight with some naps, just no touch ups: I was dreading the mirror when I finally got home. And guess what? It was like I had just gotten ready to do out the door! The packaging is the last thing I'll look for in a product: I'd much prefer to pay for the product, not the packaging. Fancy packaging just doesn't matter. Simply the best powder I have ever used, this little $10.00 bottle does so much more than the expensive behemoths it sits beside. I would recommend it strongly to everyone, you will not go back, I guarantee it.

Great Holy grail product

I found my holy grail setting powder. I do not have to retouch with powder if I use this and setting spray. I don't get oily but after a few hours it looks dewy which I don't mind. It is really soft and finely milled and I don't look ashy which I love unlike most translucent powders. I did buy smaller sifter containers so I could travel with it. For reference I have combination skin and I'm a NW 45 or NC 50 depending on if I get tan in the summer and a 500 Suede W in Lancome.

Truly "No Color"!

I'm in NW46 in MAC shades and many "translucent" products I've tried has given me the dreaded ashy overcast. It was beginning to seem that translucent powder and dark skin would never go together. This product is truly "no color." It mattes my oily skin and you can use it to make your matte and normal lippies more matte. I would recommend getting a smaller container to carry with you for touch-ups because that bottle does not fit in a clutch :D

This powder is AWESOME!!! I am a makeup junkie and have spent a TON of money on overpriced makeup counter products that come up short. This product delivers at a GREAT price. I have oily skin and this totally does the trick! So as for the comment about the packaging... I think you'd rather pay for a GREAT PRODUCT over a cutesy package any day..... Way to GO!!

HG!!!!!

remember how---you always hear---it's whats inside that counts? well, tis true of this. the packaging is simple---BUT the products should be 10X its worth in quality. like many people, i love packaging, but whats the use if its a crappy product? RCMA is made in America, fyi, lol.

i have many---many many setting powders, most high end---givenchy, dior, guerlain, laura mercer, bars, etc---but this is the powder i use the most.

first and foremost, it is so finely milled---like velvet on skin, and its actually "no color", translucent is a "white" powder….

this stuff is amazing and for the price, i need to stock up before everyone else discover how amazing it is, despite the packing.

Great setting powder for a natural look

I really love this powder and use it with a couple different foundations as it doesn't settle in pores/creases and never cakes. It takes some of the shine out of my t-zone without completely mattifying my skin which is awesome because I prefer a glowy complexion. It's not great for setting undereye products, otherwise I would have given it five stars.